Behind the Boundary, but not Behind the Couch
18 Feb
Cricket Scotland blogger Sean McPartlin gives us his thoughts following Scotland's opening fixture against New Zealand in Dundedin.
I wasn't going to blog during the World Cup – figuring the site would be busy enough without my point of view – but, after our initial game in the tournament – and some pretty negative reaction in parts of the twittersphere – I thought I would contribute my usual positive take on matters.
Firstly, it was grand to see the Scottish team on the world stage, and there must have been a few lumps in throats as the anthem was sung. For Majid Haq and Craig Wright, this was déjà vu – but for the rest of the squad, this was cricket at a new level. Two interesting points were made by coaching staff in the lead up to the game (see here on an excellent Cricket Scotland TV clip.
Grant Bradburn pointed out that there was no point in pretending this wasn't a hugely important game – but also that mistakes are made in every big game – it's the reaction to those mistakes which counts. Craig Wright then reminded the squad that the consequences, for the country and individuals, of not qualifying for this World Cup, career ending for some, had been far greater than the consequences of failure in the finals themselves – and the squad had responded to that pressure with seven straight wins, proving they could react well to pressure.
In retrospect, despite the skipper putting a brave face on it, it was a bad toss to lose. Local knowledge obviously came to the fore and the Black Caps had the bowling attack to make the most of a pitch which was definitely 'doing something' in the early overs.
To lose Coetzer, Gardiner, MacLeod and Mommsen for a total of one run, and involving three golden ducks, was always going to rip the runs out of Scotland's innings. The fear was that it might rip the fight out of the side. Thankfully, Berrington and Machan gave a demonstration of skill and grit, and, with the support of Cross and Davey, enabled the team to reach a score which, if not respectable, at least avoided embarrassment.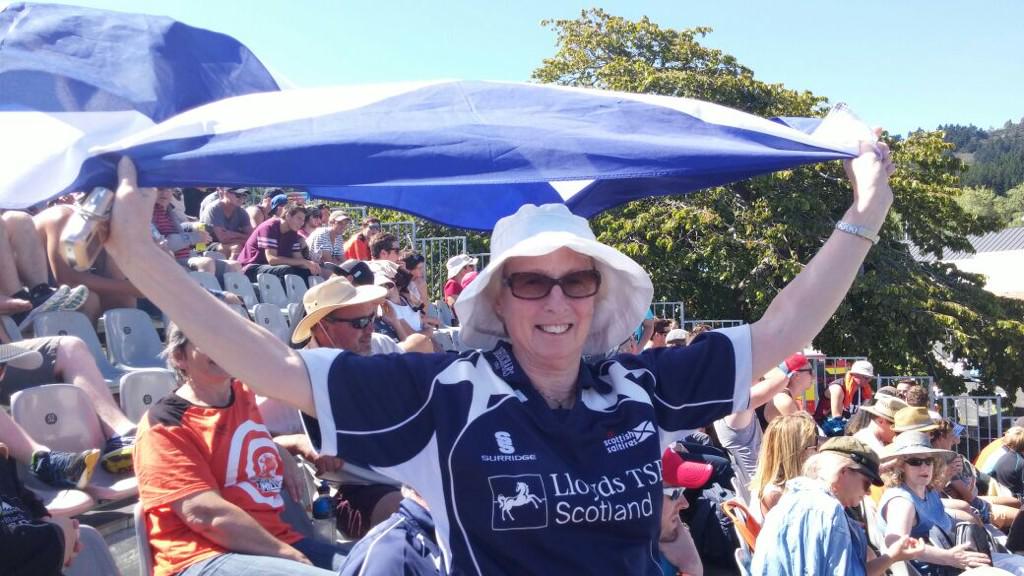 One of the weapons in the Associates' armoury has always been the tendency of Test playing countries to underestimate them. Ireland, in particular, have capitalised on this. The New Zealanders will, of course, demur, but it was clear they were not unduly concerned at chasing the eminently reachable target. Credit to the Scots' attack, they plugged away and generally ensured that the Black Caps paid for any lack of concentration. One would imagine the home team were not too pleased to lose seven wickets chasing such a total.
Despite a certain foreboding as our early wickets fell, I reflected positively in the cold light of the next morning.
New Zealand are the home country and among the favourites for the cup. Even for an optimist, it is difficult to view this result as two expected points dropped. Our top batsmen will have learned from their travails, and Richie and Matt will have gained even more confidence. Wardlaw and Davey have worked out how to get wickets and identified how easily stray deliveries will be punished. The squad as a whole have now experienced World Cup cricket and will benefit from their introduction to it. Crossy has passed Colin Smith's record for catches and Maj has equalled assistant Coach Wright's wicket haul.
Opinion is divided as to whether it is best to have a 'winnable' game first up – with the pressure that entails, or a difficult tie like this one – which affords an opportunity to adjust to the pressures of the tournament. Of course, Scotland had no choice, but I saw nothing in this first game which suggested we will fail in our objectives – to win a World Cup game and to beat a Test playing nation. We are unlikely to face again that 'perfect storm' of the first half hour yesterday and the squad have certainly shown that they will not buckle under pressure.
It was a little hard to hear a between overs playlist that featured "Good Vibrations", but next time the songs are shuffled, I'd be hoping to hear "Things can only get better" – because I am certain they will.