Majid's Haq Journey Set To Continue
28 Jan
In Neil Drysdale's latest article for the Cricket Scotland website, he speaks to Scotland's most capped player, Majid Haq, ahead of Sunday's departure to the 2015 ICC Cricket World Cup.
It seems strange to be describing Majid Haq as a veteran. For some of us, he will forever be the blithe 20-year-old who was the catalyst for the Scottish Saltires' famous victory over Durham at the Riverside Ground on their debut in the Totesport League. But that was in 2003 and Majid has done more spinning than Malcolm Tucker in the intervening period.
As he admits, his career has been a far-travelled journey on the ICC's Associate schedule; an itinerary which has encompassed everything from Intercontinental bashes to World Cup qualifying tournaments, and T20 challenges to regular jousts with the English counties in a variety of 45-over and 40-over events.
As you might expect, Majid has experienced triumph and tristesse on his magical mystery tour, but now, at 31, he is boldly going where no Scot has gone before in the sport, both in terms of becoming his nation's most-capped player - he has represented his homeland on 204 occasions - and entering the chronicles as Scotland's record wicket-taker. He is just one behind Craig Wright's tally of 256 and can anticipate surpassing that haul at the World Cup next month, which will be a fitting achievement for one of the doughtiest and most indomitable little campaigners who has ever pulled on a Scottish shirt.
It must feel like an eternity since he was growing up in Paisley in the late 1980s and 1990s, but the remarkable thing is that Majid has never changed throughout his rise from talented teenager, who made waves in Scotland's age-group structure, to becoming one of the first names pencilled into their elite ranks.
On the field, he has striven tirelessly to improve his batting and fielding, as a means of complementing his parsimonious and wonderfully deceptive spin bowling. His action is idiosyncratic, with its unhurried advance to the crease occasionally suggesting Majid might not even get round to delivering the ball. But once he has unveiled his rich array of changes of pace and settled into his rhythm with his infinite shards of subtlety and guile, there are precious few performers who have found him an easy proposition.
Ask some of his illustrious victims, who include such luminaries as Matthew Hayden, Michael Clarke, Graeme Smith, Kevin Pietersen, Andrew Strauss, Mohammad Hafeez and Brendon McCullum and they will salute the Scotland man's refusal to be fazed by reputations. Yet Majid is less interested in past heroics than looking forward to his second World Cup campaign, convinced as he is that the Scots can break their duck against an ICC Full Member when they lock horns with England, Australia, New Zealand, Bangladesh (and fellow Associates Afghanistan).
"We have prepared well and I really think we can be competitive in every match, because we have shown often enough that we are not far away from beating the big Test sides," said Majid. "It is all about performing to our potential and we have seen how Ireland have raised their game at past World Cups and have been role models for the rest of us. So now it's up to us to follow in their footsteps.
"In advance, I reckon the favourites are Australia, South Africa, New Zealand and India, but the winter's results have proved how unpredictable ODIs are at the moment. For us, the priority is playing to our strengths and keeping the momentum going for the whole 100 overs. We certainly don't want to lose a game in the first 10 overs, either with the bat or ball, but I'm confident we have the mental strength and positive attitude to do well."
Majid is a phlegmatic character, which is probably a prerequisite for a modern-day spinner. In recent weeks, we have witnessed some astonishing pyrotechnics from the likes of AB de Villiers, Luke Ronchi, David Warner and the aforementioned McCullum and it can often appear as if cricket is being transformed into an endless six festival. In these circumstances, brute force frequently prevails, but Majid is pragmatic about the situation.
"There's no doubt the changes to the 50-over format, with two new balls and fielding restrictions, have generally been in favour of the batsman, and it has become easier to hit boundaries, so I'm not surprised so many records are being broken at the moment," said Majid. "But you have to remember the batsman might only make one mistake and that's him back in the pavilion.
"As a slow bowler, you have to trust yourself and keep concentrating on your job. It goes with the territory that you'll sometimes see the ball flying back over your head: that happens to everybody these days, but it's how you respond to it that counts.
"At the highest level, the best batsmen have developed all manner of skills, from reverse sweeps to paddle shots to Dilscoops and they can work in 360 degrees. That makes it a tougher challenge to tie them down and get them out, but you have to persevere and vary your flight and pace. It's fascinating when you are out there in these sort of battles."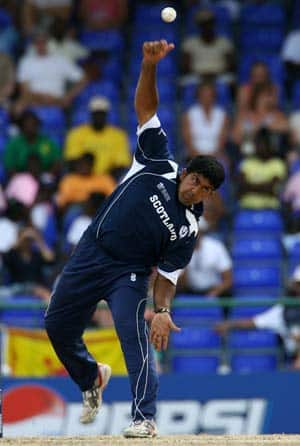 The memories are there a-plenty of Majid's magic moments. There was his maiden first-class hundred in Aberdeen which earned rich plaudits from his colleagues; the stirring fashion in which he orchestrated a revival for the Saltires from the (Shoaib Akhtar-inspired) depths of six for 5 with a nuggety half-century at The Grange; and he has made a habit of tying county opponents in knots and forcing rivals into the precipitate shot which spells their doom.
And he has done all this, both as a proud Scot and somebody who treasures his Asian heritage. Majid isn't a tub-thumper, but, in his own diligent, redoubtable fashion, he has blazed a trail for his fellow Muslims in Scotland - something which conspicuously hasn't happened in other mainstream sports.
"I have a lot of people to thank for where I am today and my family and friends have been great influences," said Majid, whose cousin, Omer Hussain, has also gained international recognition. "I've had a few setbacks, a few knocks along the way, but there is a passionate Muslim cricket community in the west of Scotland and the support I've gained has been incredible. They all take pride in how the national team is doing and many of them were quick to congratulate me when I won my 200th cap.
"That is one of the really positive things about the Scottish set-up. Everybody is committed to working together to move the game forward and the more people we have from every background getting involved, the healthier it will be for the future."
It has been a privilege to watch Majid bloom over the last decade and longer. But he isn't interested in slowing down and particularly not with a World Cup on the horizon. "Scottish cricket was a bit overshadowed by other events [such as football's World Cup, the Commonwealth Games in Glasgow and the Ryder Cup at Gleneagles] in 2014, but we have a great opportunity to raise the profile in the next few weeks," said Majid. "I'm convinced we can do it and so are the rest of the lads in the squad."