NoSCA v MCC - Match Drawn at Gordonstoun
06 May
From NoSCA

After the heavy rain over the weekend, it was a relief to be greeted with an immaculate outfield and wicket upon arrival at Gordonstoun for the annual fixture versus the MCC.
Following the usual generous hospitality, play eventually got underway 20 minutes later than scheduled with the MCC opting to bat first. The NoSCA attack was led by skipper Adam Stockwell and Dave Wolton, both of whom beat the bat several times in their opening overs, and the initial breakthrough came when Wolton found the edge of Wilkinson's bat for Mandal to hold on to a good catch at second slip.
The NoSCA attack continued to make inroads into the MCC batting, Cameron clean bowling the dangerous Gray and Mandal picking up MCC skipper Jamie Grant for just 8, to leave the game well balanced with the score on 106 for 4 after 25 overs at lunch.
However, after the break significant partnerships between Greaves and Paterson (78 for the fifth wicket) and then Greaves and Surry (67 for the sixth wicket) rapidly took the game away from the Select side, who lacked a controlling spinner to slow the scoring rate.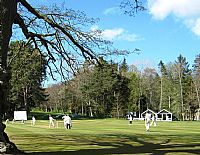 Having added a further 168 runs at exactly seven per over the MCC eventually declared on 274 for 7, with Greaves top scoring before being run out just 5 short of his century.
With just 20 overs plus the last hour remaining in the game it was a daunting task for the Select batsmen to chase almost 7 runs per over from the start to win the game, but openers Dugdale and Main made a steady start against the MCC seamers and put on 26 for the first wicket before the introduction of spin changed the complexion of the game.
Leg-spinner Greaves (Glenrothes CC) and off-spinner Dutt (Clontarf CC) combined to take seven wickets in all, reducing the Select XI to 113 for 6 at one stage - this despite an enterprising 56 from Dugdale, who added 41 in just 16 minutes in partnership with Aditya Mehta.
However, any thoughts of an easy win were dispelled by Stockwell and Davidson who took full toll of the attacking fields as the MCC pressed for victory. Stockwell eventually departed for 47 (containing 11 fours and just 3 singles) whilst Davidson went on to make an unbeaten half century before the umpires called time with NoSCA on 216 for 8.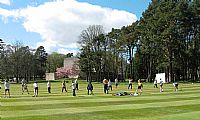 Although up against a much more experienced side, the NoSCA team acquitted themselves quite well but were left to rue several dropped catches and a lack of experience against good quality slow bowling.
Thanks are due to the staff of Gordonstoun School for hosting the game, to Mike Fox and Ken Ross for umpiring and to 'Scribe' Baxter and Kim Neill for scoring.
Click here to download a copy of the Scorecard.
The next NoSCA Select game is away at Gordonians on Sunday 26th June in the Cricket Scotland Challenge Cup.