Scotland U19s go down to Ireland
15 Jul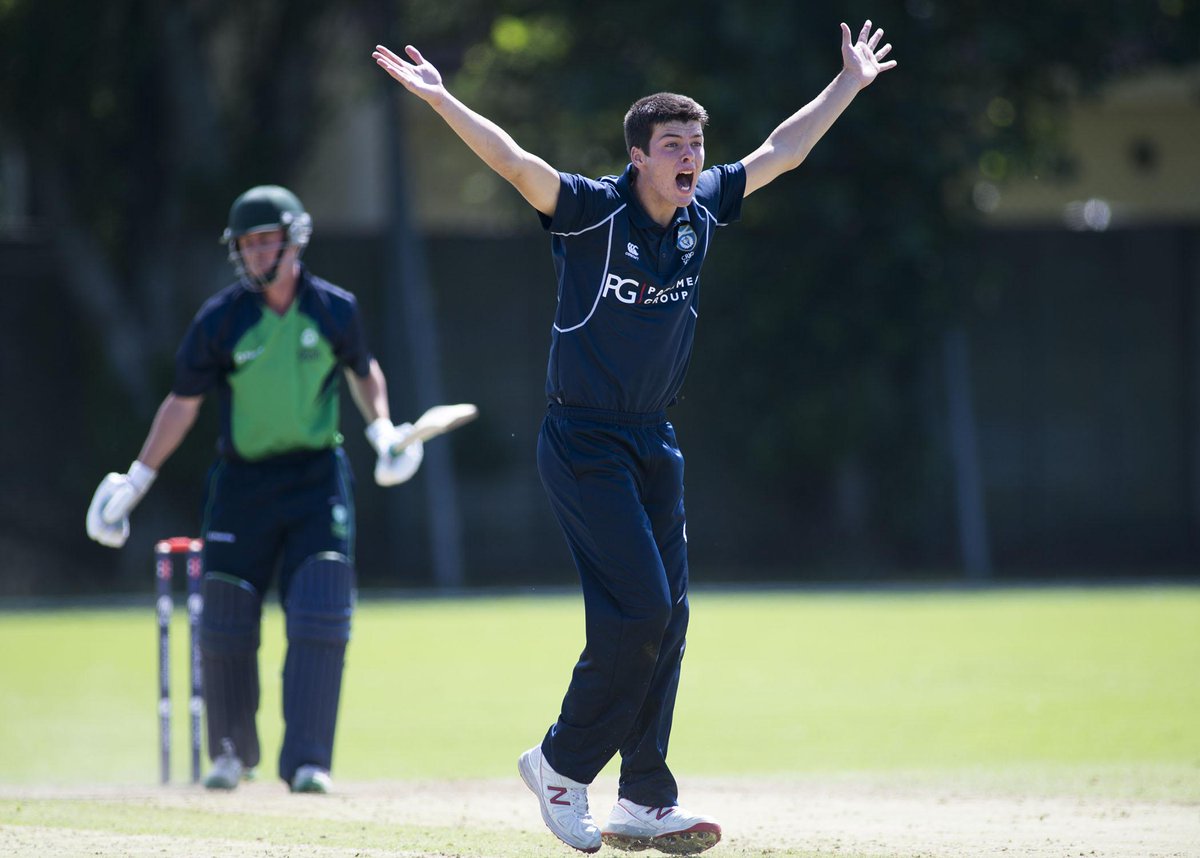 Scotland U19 119 (44.1 overs) Harris Carnegie 27, Neil Flack 19; Gary McClintock 3-28 lost to Ireland U19 150 for nine (50 overs) Sonny Cott 22, William McClintock 22; Haris Aslam 2-17 by 5 wickets
Scotland under-19's lost their first match in their Pepsi ICC Europe Division One campaign against Ireland on Tuesday in Jersey.
The Scots had defeated the Netherlands and Jersey in their first two matches, but came up against a tough wicket and a good Irish side this time around at the FB Fields.
Batting first, Scotland lost Jack Waller for two in the fourth over and in the 10th over opening partner Syed Shah (7) joined him back in the pavilion and they were 16-2.
Soon after Ben Wilkinson was also heading back to the pavilion having been bowled by Gary McClintock and they were 26-3.
Things did not get any easier and the Irish bowlers kept up the pressure, Fin McCreath and then skipper Neil Flack falling for one and 19 respectively as Scotland slipped to 54-5 in the 24th over.
Wicketkeeper Harris Carnegie and Scott Cameron then came together and tried to rebuild things.
The duo put on 27 for the sixth wicket before Cameron was out off the bowling of Ben White for eight.
Carnegie and Ryan Brown then took their side up over the 100 mark as the put together a 26-run partnership for the seventh wicket.
Carnegie was eventually out for 27 from 76 balls with the score on 107 and only another 12 runs were added before they were all out for 119 - Brown, Haris Aslam and Mohammad Ghaffar the men to go - with Mitchell Rao not out on two.
Gary McClintock was the pick of the Irish bowlers with three wickets.
Scotland knew they needed early wickets in Ireland's reply and they got the breakthrough in the eighth over when William McClintock was bowled by Scott Cameron for 16.
A few overs later spinner Aslam got in on the act, Carnegie with the catch behind the stumps to get rid of Adam Dennison, and the Irish went to 57-2.
Sonny Cott and captain Jack Tector then put on 24 for the third wicket before the former fell to Cameron.
When Tector went to Aslam very soon after with the score on 81 the Scots sensed a slight chance of an unlikely victory.
However, 22 from Gary McClintock - who eventually fell to Rao - and 13 not out from wicketkeeper Luke Tucker saw Ireland home by five wickets with 15 overs in hand.
Next up for the young Scots is the Netherlands at Grainville on Wednesday.